School Info
Tyrone Oates
Interim Principal
tyrone.oates@k12northstar.org
Address
3750 Geist Road
Fairbanks, AK 99709
School Hours
Students: 7:45 am - 2:15 pm
Office: 7:15 am - 3:15 pm
Announcements & Upcoming Events
Fairbanks robotics team takes home first place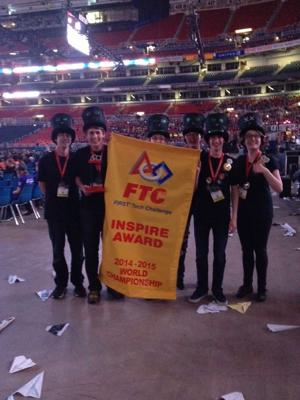 FAIRBANKS — If you spend any time around robotics, you have probably heard of Schrodinger's Hat.
This is a team of young people from Fairbanks that not only has excelled at robotics but also shared their know-how with others.
Read full article
Purchase your Yearbook Online Now!
Use THIS LINK to purchase your yearbook online with just a few clicks of the mouse.
HUTCHISON AMP TESTING SCHEDULE
Tuesday, March 31st: 9th grade AMP Math (make up ACT)
Wednesday, April 1st: 9th grade AMP English Language Arts
Thursday, April 2nd: 9th grade AMP make up
Friday, April 3rd: 10th grade AMP Science
Tuesday, April 7th: 10th grade AMP Math
Wednesday, April 8th: 10th grade AMP English Language Arts
Application for Hutchison
Looking to enroll at Hutch for the 2015-2016 school year? Use the applications below to get started.
Hutchison Staff 2014
Use THIS LINK to check out the staff, including access to staff websites, for 2014
SPORTS PHYSICAL
PLEASE, PLEASE, PLEASE, If you need a sports physical to play ANY sport that you are interested in; GET YOUR PHYSICAL over the summer. This alleviates a lot of headaches for you, parents & coaches! If you get a physical NOW it will last you throughout the whole year. If you come prepared with your physical paperwork on the first day of practice, you are good to go. Otherwise you will have to miss vital practices until your Coach has your physical in hand. Be PROACTIVE........get your physical now.
2014-2015 Student Planner Now Available.
Attached you will find the planner for the year.