School Info
Tyrone Oates
Interim Principal
tyrone.oates@k12northstar.org
Address
3750 Geist Road
Fairbanks, AK 99709
School Hours
Students: 7:45 am - 2:15 pm
Office: 7:15 am - 3:15 pm
Announcements & Upcoming Events
Hutchison creates musical 'makerspace' in its library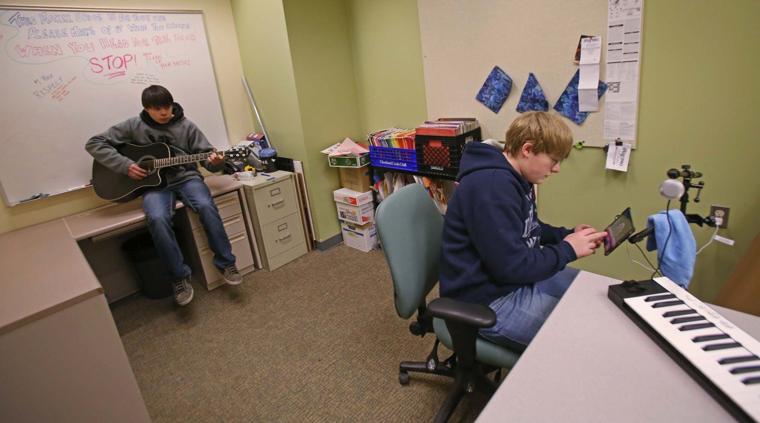 FAIRBANKS — A school's library often serves not only as a repository for knowledge, but also as a collective gathering space for students to come and study or work on projects.
At Hutchison High School, it's now also a space where students can practice their creativity and self expression through the use of a new musical makerspace. The school was able to install the makerspace in a room attached to the library through the use of funds donated through the school crowd-funding website www.donorschoose.org.
Hutchison is a career and technical preparation school, in which students study through career clusters. The idea behind the musical makerspace was to provide students a creative outlet, since in many instances they might have limited access to the arts.
Deborah Rinio posted the proposal for the makerspace to donorschoose.org in September, and within several weeks the project had met its goal of $850.
Read full article
Questions for Principal Candidates
Hutch is in the process of selecting our new principal, and we would like to give you the opportunity to run for the Student Question Selection Committee here at Hutch. The Committee responsibilities would involve meeting to write 8-9 questions that you, as students, would want included in the principal interview process. The meeting to create these questions will most likely take place during Tuesday AE periods. If you are intersted in being considered for this committee please see Mrs. Heather Johnson in the front office by the end of the day on Thursday Jan 22nd.
Application for Hutchison
Looking to enroll at Hutch for the 2015-2016 school year? Use the applications below to get started.
Purchase your Yearbook Online Now!
Use THIS LINK to purchase your yearbook online with just a few clicks of the mouse.
Hutchison Staff 2014
Use THIS LINK to check out the staff, including access to staff websites, for 2014
SPORTS PHYSICAL
PLEASE, PLEASE, PLEASE, If you need a sports physical to play ANY sport that you are interested in; GET YOUR PHYSICAL over the summer. This alleviates a lot of headaches for you, parents & coaches! If you get a physical NOW it will last you throughout the whole year. If you come prepared with your physical paperwork on the first day of practice, you are good to go. Otherwise you will have to miss vital practices until your Coach has your physical in hand. Be PROACTIVE........get your physical now.
Order Your Yearbook Online (and past years too)
Follow THIS LINK to be taken to the site which will walk you through ordering the 2013-2014 Yearbook. You can also find links for ordering past yearbooks as well.
2014-2015 Student Planner Now Available.
Attached you will find the planner for the year.